When one embarks on an adventure called Life, the only things one can rely upon are physical ability, hope and courage. Exactly a year ago, when teachers, students and parents of Udhbhavaha set-out on a 3-day long paada-yatra through villages around Gowribidanur, we had an additional element to see us through – camaraderie. We had each other to give a gentle nudge when the going got difficult. We walked through 18 villages, covering approximately 45 – 50 kilometres. We were both excited and apprehensive about this journey – Corona virus was lurking somewhere far-away in the news channels, was this the right time to go on a paada-yatra? Can children, parents and teachers walk so much? What will we eat? Where will we stop over during the nights? It was summer and the sun was beating hard, will it be "too hot to handle"? Even with all these questions lurking in our minds, the drive to tread unknown paths, the zeal to meet new people and the thirst for valuable life lessons this would bring, led us to break ground and literally blaze a trail.
We walked through forests, climbed hills, crossed valleys and fields, visited temples and other interesting places in every village we passed by. We encountered people from different walks of life, met strangers who became friends and hosted us, sang bhajans and danced with people in temples. We stopped by a well for a refreshing swim, watched a unique bird sitting on a distant tree, rested under the cool shade of huge banyan trees, played and swung on trees that were god-knows how old.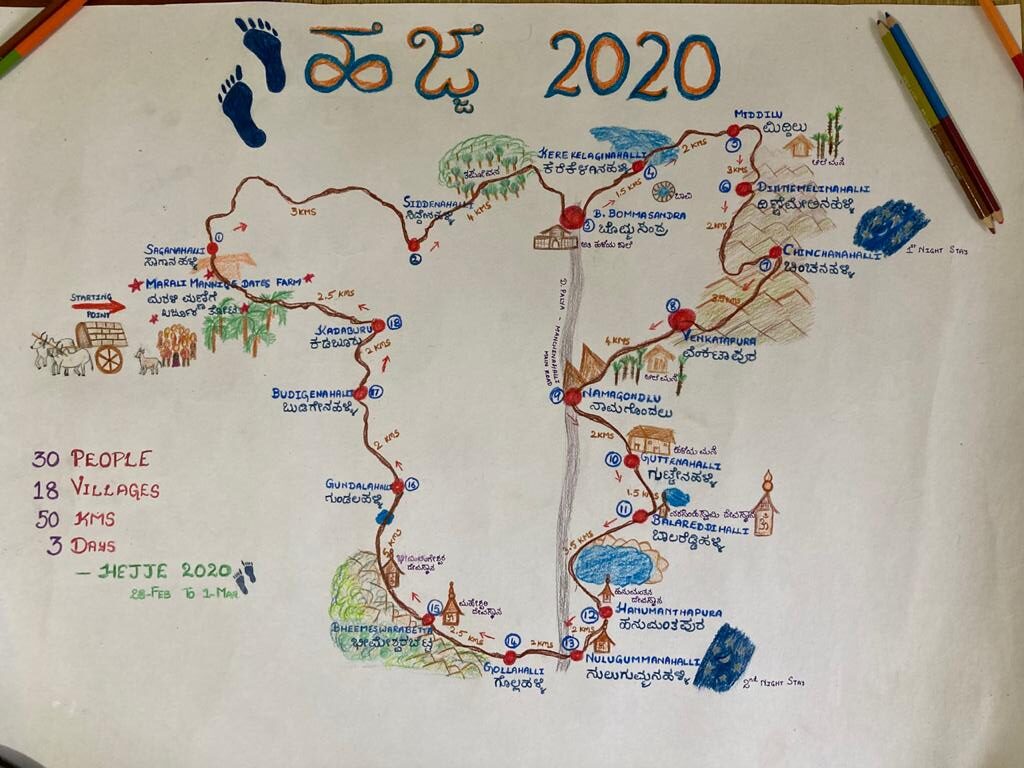 One of the most important learnings from this experience is that people care for others, even if they are strangers. The first evening of our yatra, we stopped at Chinchanhalli, with plans of spending the night in a temple or school verandah. Soon we realize that one family in that village has come forward to host us. It was a matter of few hours before which a small family of father, mother, and a young daughter prepared dinner for all of us and arrangements for stay. The following evening had something else in store for us. As we walk by another village, people come up to us enquiring where we are going and what we are doing. We tell them about our yatra and that our plan was to stop by for the night in the next village. They see that we are about 30 people including women and children and the sun was setting soon. They talk amongst themselves and they tell us "Our village has everything to offer that the next village will give you. Then why not spend the night here". We were surprised to see the whole village came together to cook dinner for us and make arrangements for our night stay. We could see reflecting in them the "Pride of their land".
Our minds seem to carry mistrust for fellow human beings, indifference for people whom we don't know and a lack of faith in the system we live in. The yatra helped break some of these misconceptions – the people we met were curious to know what we are doing, they were willing to offer what they had, they placed vishwasa (trust) in us so much that they offered their homes to rest. The world is not as bad as we imagine, sitting in our safe confines of our home. Human values of compassion, love and trust still exist among people, and this is what keeps the world moving.
One common quality that we noticed in the villages we passed by was "a heart to share". As we were bidding goodbye to the people of a village, an old lady in her 90s probably, comes by to one of us and offers 2 pieces of sugarcane with a smile. What mattered was not what she handed over but her large heart to give. In today's global world where every interaction is a "transaction" and return-gifts are the norm at events, it came as a breath of fresh air that offered us all that they had – sugarcane, jaggery, groundnuts, flowers, variety of fruits, cool drinks, snacks and lots of love and warmth, and expected nothing in return! I see this as a striking difference between a city dweller and a village dweller – maybe the difference is with the mindset we develop when we pay money to buy what we need versus when we grow our own food or make our own things. Then the value of what we have is not graded in terms of money.
What we experienced in these villages got many of us thinking on our perception of life and it was equally intriguing for children. One child did ask "Why are these people being so nice to us? Why are they offering us what they have? Why are they opening up their place to stay for us when we are strangers? We are nobody to them and we may never again meet them. Are they expecting something in return from us?" One elderly person who was listening to this responded, "Every year we go on a paada-yatra to Thirupathi and we have experienced good hospitality from people whom we have never met, in other villages on the way. I have always wondered on how do I repay their goodness and I found my answer today when you came to my village. It's my way of thanking what I received in my life earlier and I expect nothing in return as I believe that you too will get your opportunity to payback" We smiled, nodded and moved ahead but the profound message in the response of this person is etched in my mind forever.
Hejje concluded with the humble feeling that things happen, paths get cleared and the journey will be worthwhile if we believe so! As we bask in these memories, we are eagerly waiting to place our next Hejje.